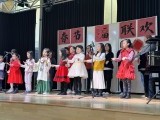 On the 4th February 2023, ambassador Hua Ning of the Chinese embassy in Luxembourg, president Zhang Yi of CLCCL, Professor Bu Songshan of the Confucius Institute in Trier, and President Dr. Lin Rongshan of the Deutsch-Chinesische Gesellschaft Saar e.V hosted the "Spring Festival Gala of the Year of the...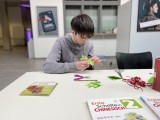 Kids and parents had a fun time at Lycée Ermesinde's porte ouverte that CLCCL's teachers and students supported with beautiful live Guzheng music and craft workshops.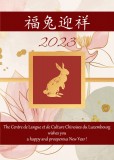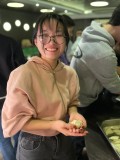 Our students from the Chinese language classes at the lycées LGL, LEM, LCD and LNB had a fun time celebrating Christmas in an (upon their wish!) unconventional and Chinese way, making dumplings together and playing games during the delicious dinner.
We would like to congratulate our students who took the HSK level 6 exam, the highest level of the international Chinese language proficiency test available and equivalent to the level C2 under the Common European Framework of Reference for Languages (CEF). We are extremely proud that all our students...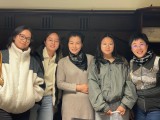 On the 19th November 2022, three students from CLCCL took the HSK 6 official language exam at the Confucius Institute Trier after a long and intense preparation period. This was in fact no easy challenge, considering that the HSK level 6 exam requires a high linguistic proficiency. Our students mastered...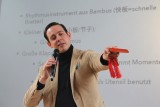 For the jointly organised event by CLCCL, the Confucius Institutes in Trier and Liège and the University of Bremen, the director of the IASA Niklas Donath gave an inspiring talk about the Chinese kuaiban at the Lycée de Garçons de Luxembourg. Mr Donath, who studied Chinese at the Tsinghua University in Beijing,...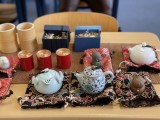 On 22nd October CLCCL offered a workshop on traditional Chinese tea ceremony led by the tea master Ms Zhang Weiyi. The selected students first learned about the long history and cultural importance of tea in China. A demonstration of the customary way of tea preparation followed, where each step from cleaning the utensils to pouring...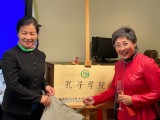 Director Zhang Yi represented CLCCL at the inauguration ceremony of the new Confucius Institute Trier in October. CLCCL is looking back at many years of friendship and successful collaboration with the institute that is now independent of the University Trier. Congratulating the directors Dr. Li Yi and Prof. i....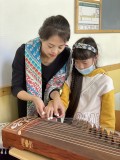 This school year CLCCL has extended its cultural offer by an introductory course in the art of playing the Guzheng for interested students and parents. The Guzheng is a traditional Chinese string instrument with a mesmerising, calming sound. Its origins can be traced back to over 2500 years ago. We are excited to have our students experience this unique instrument.