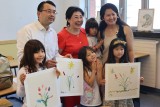 On July 8th, CLCCL's annual Chinese Culture Day was held at the Lycée de Garçons de Luxembourg. The event was graced by the presence of Hua Ning, the Ambassador of the Chinese embassy in Luxembourg, and Mr. Eyschen, the director of the Lycée de Garçons. Parents arrived early at the venue with their children, eager to participate.
During the opening ceremony, Zhang Yi, the director of CLCCL, presented a comprehensive report highlighting the students' achievements and progress throughout the school year 2022-2023. Afterwards, Ambassador Hua Ning, representing the Chinese embassy in Luxembourg, generously donated 48 boxes of Chinese books to support the development of CLCCL and to inspire its students to strive for excellence. This thoughtful gesture received wholehearted applause and appreciation from all attendees. Later, the representative of the Confucius Institute Trier awarded those students who attained outstanding scores in the 2022 Chinese proficiency test, serving as an encouragement for their hard work.
Throughout the day, 14 different workshops were offered on-site. They included Go, Xiangqi, Mahjong, the art of making patterned buns, Chinese painting, Guzheng, Opera Mask painting, Jianzi making and kicking, Yoga, Karaoke, iron-on transfer, tea ceremony, and bubble tea. Students and parents enthusiastically participated in workshops that intrigued them, immersing themselves in the charm of Chinese culture. 
The success of this event can be attributed to the unwavering support of the Chinese Embassy in Luxembourg and the collective effort of CLCCL's teaching team, experts, and students. CLCCL would like to extend their heartfelt gratitude to all of them.