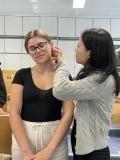 Traditional Chinese Medicine (TCM) is a kind of traditional medicine which originated in China and has a long history of more than two thousand years. In addition, it has a far-reaching impact on the other Asian countries that use Chinese characters. It is based on theory and practical experience, and studies the laws of health and disease transformation in human life activities as well as disease prevention, diagnosis, treatment, rehabilitation and health care. It is the most widely used, and one of the most popular and important types of traditional medicine nowadays.
CLCCL was fortunate to have Dr Zhang Min, who teaches Masters students in Traditional Chinese Medicine at the University of Malta, come to Luxembourg to give a series of lectures. Dr Zhang introduced Chinese medicine in an easy-to-understand language and explained the main differences between Chinese and Western medicine. She further shared some tips with the audience to use in their daily life. For example: acupressure to relieve anxiety, rose jasmine tea to calm the mind and alleviate depression, herbal chicken soup to improve immunity, etc. Audience members were reluctant to leave after the presentation and queued up to have an individual chat with Dr Zhang.
This lecture series unveiled the mystery of Chinese medicine and we hope that we will have another opportunity to collaborate with the Shanghai University of Traditional Chinese Medicine so that more people can understand and get to know traditional Chinese medicine.