Cultural Activities
CLCCL is organising for Luxembourg the Selection of Overseas Chinese Teenagers singers for the participation of the 2015 WATER CUBE CUP.
The Overseas Chinese Teenagers Contest For Chinese Songs, Luxembourg Half Final Selection, which is sponsored by Overseas Chinese Affairs Office of the State Council, Beijing Municipal Peoples Government , All China Youth Federation, The overseas Chinese Affairs Publicity Secretary and Culture Department, Overseas Chinese Affairs Office of Beijing City, Beijing state owned Assets Management Co., Ltd., Beijing TV station, The limited liability company of Beijing National Swimming Center, and Beijing City show limited liability company, will be held in Lycée Ermesinde Theather, on June 24, 2015 at 8.30 pm (to 9 pm). The Selection for the Finalists will be held at the same place on June 29, 2015 at 8.30 pm (to 9 pm).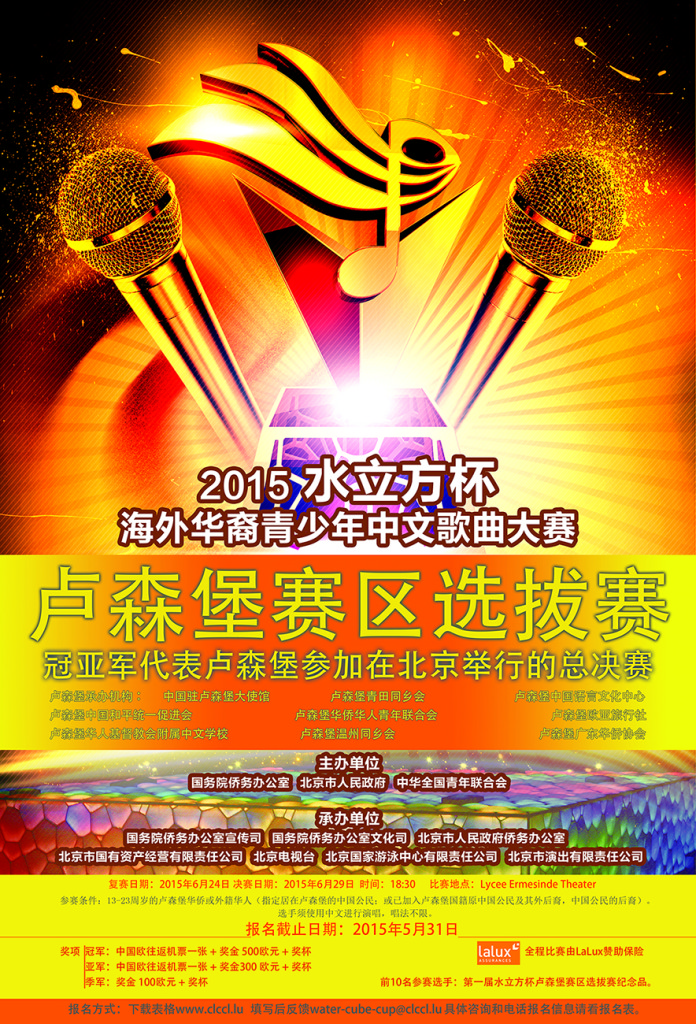 Overseas Chinese from Luxembourg or from other European countries (Chinese citizens who are settled in Luxembourg and their descendants, or Chinese who got the Luxembourgish nationality already and their descendants), with age between 13 to 23, may fill in the registration form (download here WCC-CLCCL) , and send to water-cube-cup@clccl.lu  before the deadline of May 31, 2015.
 The Final will be followed by the press and local media.
CLCCL is promoting the cultural exchanges between Luxembourg and China.
On the top of its exchange program for students and teachers, CLCCL offers for who likes to enjoy a full program during holiday, the summer camp and/or the winter camp.
Business and Cultural lectures are organized by CLCCL inviting brilliant lecturers all year along.
Some study trips take place based on demand to be more familiarised with dedicated topics.
CLCCL organizes regularly cultural events like calligraphy, opera performance, music, painting or photo exhibitions in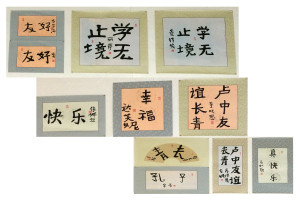 collaboration with various bodies like Bank of China, Chinalux or with the Chinese Embassy in Luxembourg. The school is also promoting Chinese culture for children (Paper cutting art, GO, Origami, TaiQi, Kung Fu) and adults in organising workshops and movie projections during the various open days in different schools.
Some scholarships of 1 year in China are awarded  for Chinese language based on acceptation, and a scholarship of 3 years is offered for economy students (Ecole de commerce) having passed the HSK6.
Please see our newsletter, our latest posts or upcoming events.