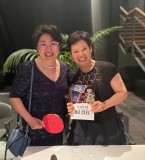 Among the greatest Fans among CLCCL, teachers and students attended the release of the new book "Ni Xialian – A Gift From God" on Tuesday evening.
Ni Xialian, famous champion, created "the miracle for Luxembourg" in the table tennis world.
She won a lot of prices representing Luxembourg during her professional sport life. At the age of 58, she represented Luxembourg at the Tokyo Olympics game and achieved a good result being the third one in the ranking.
Her love and dedication to this sport has made a lot of supporters from Luxembourg and overseas Chinese from here admiring and being proud of her.
A big applause !!!