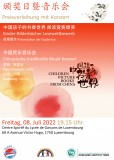 It was a remarkable evening this 8 of July with for the reward of the Chinese book reading competition winners. All the students were present to receive their award. A wonderful concert took place with ancient Chinese instruments to frame this nice ceremony.
A big applause for all the participants, artists  and winners
You can see a short movie here : https://vimeo.com/728625219
And the photos here under. Enjoy them.