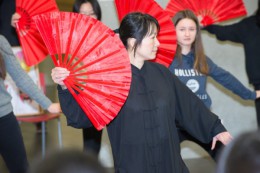 Supported by the Chinese Embassy and in collaboration with Trier Confucius institute, CLCCL held an amazing morning this Saturday 4th.of February by the Athénée du Luxembourg. The audience composed of students and adults could enjoy a set of permanents ateliers throughout this half day.
Calligraphy, Chinese painting, Go play, Lion dance, Shuttlecock, KongFuFan, WuShu, Tea Celebration, Paper Cuttings, Origami and many others cultural activities were at the program to celebrate and to enter the Chinese New Year 2017, year of the Rooster.
Before the final show with the eagerly awaited Lion Dance, a raffle chaired by the First Councillor of the Chinese Embassy Mrs. SHANG Jing, by the Director of the Confucius Institute in Trier Mrs. LI Yi and by the President of CLCCL ZHANG Yi, made a lot of people happy with prestigious gifts offered by sponsors (Tea master, Calligraphy master, CLCCL, etc). 
We thanks all the participants for their attendance bringing joy to this event and specially the Confucius Trier Institute and her amazing Director LI Yi for their great cooperation, the Chinese Delegation from the Foreign Language High School affiliated to Shanghai Normal University for  their participation, the Chinese Embassy for its representation and support, Mrs. SUN Shujing, Mrs. WANG Yi, Mr. ZHANG Shaohui and our President for the perfect and smooth organisation. 
Watch the movie to get a flavor of the Chinese culture on Vimeo:
or on Youtube:
https://youtu.be/tXX3h5_uqdY