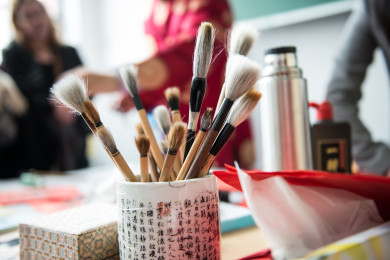 It was, this Saturday 27 January, a  fantastic cultural day organised in cooperation with the Trier Confucius Institute (Mrs. Lee), welcoming Shaolin Monk and Masters, calligraphy master, various Martial arts seminars, traditional Chinese music, Tea ceremony and practice with tasting, Go playing, Chinese painting and Origami for everyone !
Lion dance, Chinese Gym, Shuttlecock competition (Jiànzi) and the traditional Jiazi party took place to celebrate the Chinese NewYear with our very dynamic Chinese Delegation of teachers from partners Lycée in China.
A big applause for all the committed teachers and students, for the Director of the Lycée de Garçons de Luxembourg Mr. Frank Eyschen and for the CLCCL President Zhang Yi to give us this fabulous time.