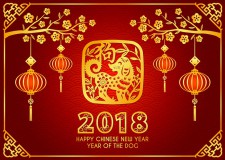 Relayed by Chronicle  online magazine, you will find the communiqué de presse here under.
The Centre de Langue et de Culture Chinoises du Luxembourg (CLCCL) will be hosting a cultural day to celebrate the Chinese New Year on Saturday 27 January 2018 at the Lycée de Garçons from 0930-1500.
Under the direction of its president Mrs. Zhang Yi and in collaboration with the Confucius Institute in Trier, the CLCCL has organised a public celebration of the Chinese New Year. On this Chinese culture-themed day, participants will have the opportunity to discover various workshops including a calligraphy workshop, a tea ceremony, Chinese painting, origami, a Gong Fu show and a lion dance.
For more information, visit www.clccl.lu or the centre's Facebook page. 
Venue: Lycée de Garçons, Place Auguste Laurent, 1921 Luxembourg
Organiser: Centre de Langue et de Culture Chinoises du Luxembourg
Price: n/a
Reservations: www.clccl.lu
http://chronicle.lu/event/chinese-new-year-celebration