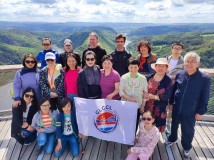 On the last weekend of this early summer, enjoying the fresh air, CLCCL organized for its teachers and their families a team building together with the partner teachers from the Confucius Institute in Trier.
The Colleagues and family members supported and helped each other to successfully complete the program consisting in hiking in the forest and reaching the top to get a nice scenic view on the Saar River.
What an ideal place to conduct a work meeting during the lunch…
The ostrich egg bought on the way, became a bonus of this event.