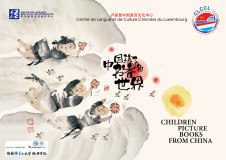 The Centre de Langue et de Culture Chinoises du Luxembourg,
in collaboration with Confucius Institute from Trier,
is presenting the  "Children Picture Books From China Expo" (total 50 books) from 22th of Oct. to 13th of Nov.
This will address students of different age.
The books are in English and Chinese, from ancient China to modern China and revealing current social topics.
We encourage all students to read those nice books to enrich their culture.